Skip to Content
Concrete Floor Coatings to Expand Your Living Space
Fortress Floors of North Carolina provides the ultimate concrete floor coating from Raleigh to Wilmington and all surrounding areas. Our company was born through a shared desire to find a better concrete solution: A solution that would withstand the daily wear and tear of vehicles, lawnmowers, and other equipment along with ease to keep it clean. A solution that would have unlimited applications, allowing homeowners to expand their living spaces with a straightforward one-day installation.
Owners Nathan and Christa Brill have brought this solution to North Carolina with their family moving from Wisconsin. Nathan has a background in concrete and construction, and his years of work experience allow him to make the installation process seamless. We've grown to be a successful business serving Raleigh and surrounding areas all the way to the coast. Nathan's wife, Christa, and daughter Deena, help run the business's daily operations along with a team of qualified installers. We're ready to install a new floor coating at your home or business. Just give us a call!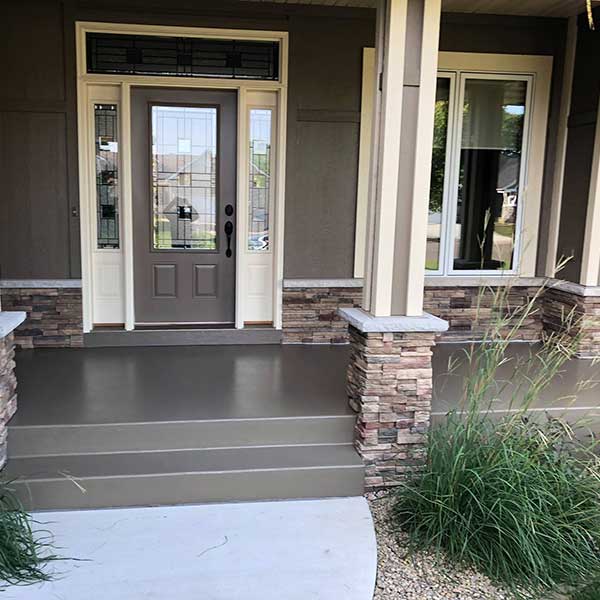 We Provide Years of Customer Service
Nathan and Christa share over 25 years of providing decorative concrete, winning industry awards for stellar work throughout their careers. Their time in the field has sharpened and perfected their skills, and their team comprises the most seasoned professionals in the area. Our company will perform services that meet your precise needs and wants.
You'll fall in love with our top-quality work. From thorough floor grinding to the moment we place your concrete, we'll guide you through the process, making you feel confident and comfortable along the way.
Your satisfaction is a top priority. We provide services with the drive to meet our clients' goals and complete their flooring, and we look forward to hearing from you.
Installation in Less Than a Day
If you're hesitant about the impact an installation might have on your daily life, we've got you covered. We have the speed and capabilities to perform your installation in a day or less.
If you leave for work or a day of errands, you can count on wholly installed flooring when your return. We strive to make the process convenient and hassle-free.
Enjoy the advantages of a completely new concrete floor while going about your life as usual.
Get in Touch With Us Today
If you're ready to discuss a new floor coating for your home or business, now is the time to call Fortress Floors of North Carolina. We'll ensure your area is thoroughly prepared before we begin work in order to give you the best results possible. Reach out to our team today if you have any questions or would like to request an estimate.
Expand Your Living Space
Your Decorative Concrete Floor Installation Experts