Skip to Content
Save Your Slab With Our Concrete Floor Coating
Is your garage floor damaged or cracked? Are you looking to use your garage for expanded living space? Are you looking for beauty and durability in your outdoor space… patio, porch, carport, pool deck, etc.? Could your shop or outbuilding use a durable, easy-to-clean floor?
Fortress Floors of North Carolina has the solution for you. Upgrade your space with our concrete floor coating in one day. Fortress Floor coatings are much stronger than traditional concrete or epoxy, offering a range of benefits you can't get with any other kind of floor finish. We are your solution to traditional epoxy floor coatings and all DIY floor coating projects gone wrong.
Our floor covering not only protects your concrete slab for up to 15 years, but it also improves the look of your floor, turning drab concrete into a beautiful surface for your family to enjoy. Our process quickly transforms unused portions of your home into livable space, expanding your square footage. Call us today to learn more or to request a quote for your project.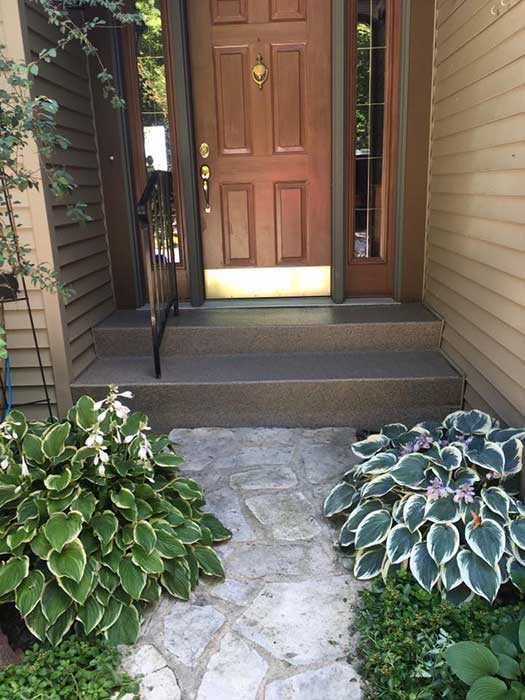 Update Any Area of Your Home
At Fortress Floors, we use six easy steps to prep, coat, and seal your concrete slab. Our coating fully covers the entire surface and provides an even finish and a polished look that you don't get with standard concrete. We provide a quick and cost-effective way to update your space and maximize the square footage in your home. Not only does our coating help to convert previously unused rooms into livable space, but it also helps to preserve your concrete slab from harsh substances like salt. Our floor covering is an excellent option for all of the following spaces:
Garages
Basements
Patios
Kennels
Porches
Staircases
Laundry rooms
Any place you have concrete
New Floors in One Day
Have you been thinking about updating your home, but are concerned about the disruption to your living space and daily life? Our floor coating provides a method to quickly update your garage, basement, or other living areas in a single day. That's right, we can prep, apply, and seal the coating in one day. When you leave for work in the morning, we'll be hard at work, and when you return, your space will be transformed. No need to worry about a crew being in your home for multiple days. We'll be gone as quickly as we arrive, and you'll be left with beautiful new floors. Call us today to get started on your new concrete floor coating in North Carolina.
Expand Your Living Space
Your Decorative Concrete Floor Installation Experts